Some Small Companies Facing Tariff Troubles
The Trump administration has been using tariffs — or the threat of tariffs — in its efforts to reduce the trade deficit, address unfair trade practices, and push multinational businesses to move production back to the United States. In response, major trading partners including China, India, the European Union, Mexico, and Canada have retaliated with tariffs of their own on specific U.S. exports.1
Many of the nation's small businesses could be caught in the crossfire of these trade disputes. In fact, small and medium-size businesses (with fewer than 500 employees) account for about one-third of the value of goods exported and imported by U.S. companies.2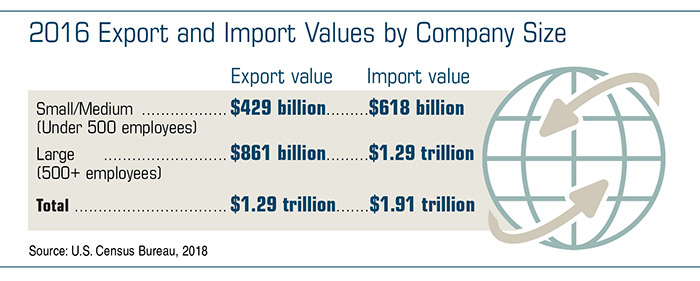 Feeling the Effects
A tariff is a tax on a particular class of imported goods or services that is designed to help protect domestic industries from foreign competition. The implementation of new tariffs means that some companies may have to wait longer for deliveries of targeted raw materials and finished goods that must pass through customs.3
Tariffs imposed by the United States or its trading partners could also drive up input costs for some businesses, forcing them to choose between raising prices on U.S.-made products (when they can) or lowering profit margins. Other U.S. companies may benefit from the new tariffs if their foreign competitors are forced to raise prices.
The earnings of small companies affected by tariffs may be more vulnerable, because they usually pay higher prices for raw materials than larger companies that can buy in bulk. Small businesses also have fewer financial resources to help absorb price increases.4
Coping Strategies
The risks to U.S. businesses could intensify if the trade war escalates. On the other hand, trade negotiations may bring an end to some or all of the tariffs, and/or improve business conditions for some U.S. industries in the future.
In the meantime, a Federal Reserve study found that 19% of businesses are reviewing their spending plans in light of trade uncertainty. Those that are heavily engaged in international commerce (such as manufacturers, retailers, and transporters) are even more likely to be holding off on planned investments or hiring new employees.5
If you own a business, you might pay close attention to proposed changes in trade policy that could impact you, your suppliers, or your competitors. This may help you make critical adjustments to your supply chain, business strategy, or pricing.